Update 1pm: Gwinnett County is slowed by technical issues that have caused issues all week.
Update 12pm, Nov. 7: Biden continued to expand his lead as provisional ballots were counted in Fulton County and others. We've removed the state ballot totals because it's getting difficult to track since counties are dealing with provisional ballots, cured ballots and those the optical scanners could not read. That results in counties appearing finished, but the number goes up as ballots with errors are adjudicated.
Update 6pm: About 2000 military and overseas absentee ballots remain to be counted as Biden's lead grew after tallies from Gwinnett county were added. Initially it was reported 4800 ballots remained in the county this morning, but 3000 more were counted with overseas arrivals, ballot curing, provisional ballots and votes where the optical scanner failed, but election workers and observers from each party agreed voter intent was clear.
Update 9:30am: Georgia Sec. of State's office has updated the total outstanding votes with Joe Biden holding 1096 vote lead. There are 8,900 overseas military ballots that have not been returned and conceivably could by 5pm today, however more than three times the 2016 military vote has already been counted so it is unlikely many are outstanding.
Update 6:30am: _Gwinnett County still has around 4,800 votes to count. _You can see from the table above that this is likely to increase Biden's lead. The process is not as simple as counting, many of these ballots need to be reviewed due to machine errors, tech glitches or voter error. From the Atlanta Journal Constitution yesterday:
An undetermined number of votes from the 3,200 batches of ballots, 4,400 absentee ballots received on Election Day and 463 votes from a corrupted voter card used during early voting have not yet been reported to the Georgia Secretary of State's Office. The ballots that must be adjudicated and the remaining absentee and early votes will not be reported until the process is complete in order to avoid "voter confusion" that could come with fluctuating numbers, Elections Supervisor Kristi Royston said.
Update 4:20am, Nov. 5: Biden takes the lead with more votes to come in. There are still outstanding military and overseas ballots without a clear count yet.
Update 6pm: Margin drops below 9000 with 36,000 votes still to count and report.
Update 2:25pm: Biden reduces Trump's margin to +1350 as more tallies are completed.
Update 11:44am: Votes from Fulton County move Biden closer. New deficit 14,587.
Update 11:20am Judge throws out Trump campaign challenge that Chatham County, the county with the most votes left to count, had illegally mixed on-time and late arriving ballots.
Update 10:30am Sec. of State's office list of votes left to count by county.
Bryan: 3,027
Burke: 494
Chatham: 17,157
Clayton: 7,408
Cobb: 700
Floyd: 682
Forsyth: 4,713
Fulton: 11,200
Gwinnett: 7,338
Harris: 3,641
Laurens: 1,797
Putnam: 1,552
Sumter: 1,202
Taylor: 456
Totals: 61,367
---
Key Takeaway: Results come in about an hour after polls close and enough votes should be counted by midnight to know the winner unless it is extremely close.
---
Polls Close: 7PM
Last Absentee: Election Day
Votes Counted: After Polls Close
Vote Certified: Nov. 20
Early in-person votes and already processed absentee ballots will be reported first in most counties.
---
The Big Number: 3,912,819 Early Votes and Mail Votes
94% of the 2016 vote was achieved before Election Day in Georgia.
---
Georgia officials have been able to process absentee ballots since Oct. 19 after rule changes following the chaotic primary. Signature matching occurs and ballots are run through the scanner with any errors corrected if possible. The tallies of the votes take place once polls close. The vast majority of votes will be counted by midnight Election Night.
Absentee ballots that arrived on Nov. 2-3 will be the last to be counted and that number could be over 100,000. Even close results should be announced by Wednesday at 7PM at the latest.
---
What to watch for
Georgia uses scanners that read bubbles filled in on ballots, but the system seemed to be error prone in past elections.
The scanner reads a 'target area' of a bubble and if 20% is filled in the scanner identifies that as a clear vote.
But in past elections 35% counted and anything down to 12% would go for review by a people to check for voter intent. That lower threshold is now 10%
Scanned ballots that were not read by the machine could be an area for challenges in a close election.
Sources
How votes are counted in Georgia on election night and beyond | AJC
When Georgia expects to see results | Savannah Morning News
Georgia State Election Board Approves Absentee Ballot Process Improvements
With record vote-by-mail turnout expected, counties can now process absentee ballots earlier.
Stephen Fowler  —Georgia Public Broadcasting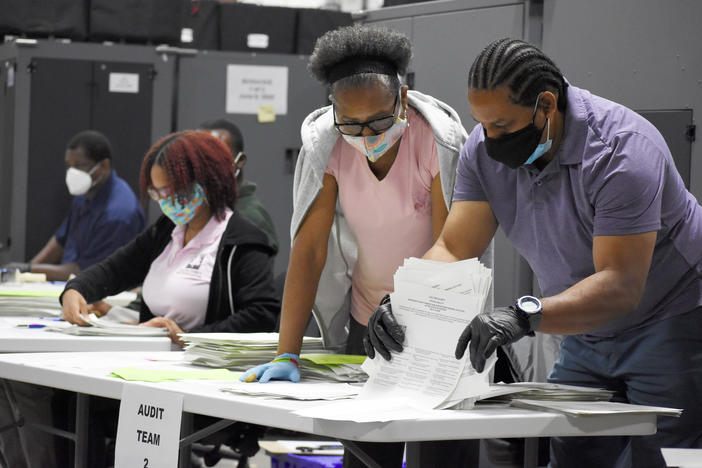 Georgia officials tweak standard for marks to count as votes
ATLANTA (AP) — Election officials in Georgia approved a new rule Thursday that changes the standard for how much an oval needs to be filled in on an absentee ballot to count as a vote. Under...
Associated Press